Latina Graduate Student takes on Sexual Harassment in Agricultural Health and Safety
Small Grants, Big Impact Series
In 2013, PBS's Frontline documentary "Rape in the Fields" focused on sexual harassment in the agricultural workplace. Some women farmworkers are poor, undocumented, have little formal education, and work in a male dominated labor force. These and other factors can make women farmworkers vulnerable to sexual harassment. The aggressor can be a supervisor or coworker, and of the same sex or opposite sex. Victims can be threatened with losing their jobs, being deported, being further socially isolated, or separated from US citizen family members if they don't comply.
I began researching this topic in August 2016 for the "Sexual Harassment of Hispanic Women in the Agricultural Workplace Study." These efforts are supported by WCAHS Emerging Issue funding and  the Programa de Investigación en Migración y Salud - The Migration and Health Research Program. The study is led by Dr. Stephen McCurdy, WCAHS Outreach Director. I have also been funded by the WCAHS Graduate Student Funding Program.
The purpose of the study is to investigate attitudes, perspectives, beliefs, and experiences of men and women regarding sexual harassment in the agricultural workplace with the goal of improving education and prevention practices.
Women are steadily becoming a greater part of the farm labor force. In 2014, women represented approximately 28% of the farmworkers in the US. Women made up 26% of the California farm workers sampled by the National Agricultural Workers Survey in 2014.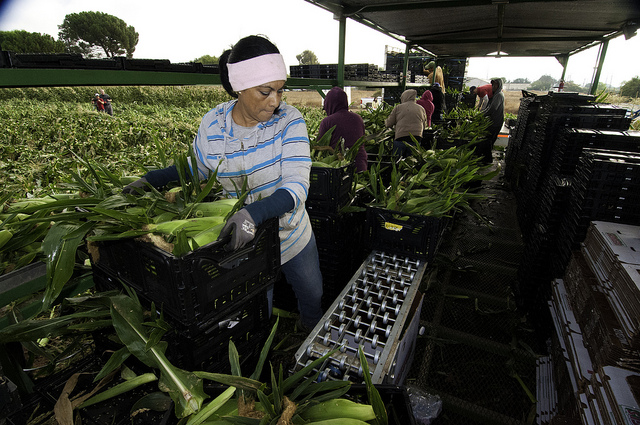 A 2012 Human Rights Watch report called "Cultivating Fear: The Vulnerability of Immigrant Farm workers in the US to Sexual Violence and Sexual Harassment," describes rape, stalking, unwanted touching, exhibitionism, and vulgar and obscene language by supervisors, employers, and others in positions of power. Most farmworkers interviewed said they had experienced such treatment or knew others who had, and most said they had not reported these or other workplace abuses, fearing reprisal. A 2010 survey of 150 farmworker women in California's Central Valley revealed that 80 percent had experienced some form of sexual harassment. The findings described victims experiencing gender harassment and unwanted sexual attention from both supervisors and coworkers.
We are partnering with Professor María Elena Rivera Heredia from the University of San Nicolás de Hidalgo in Michoacán, Mexico, community leaders, farmworker service providers from the migrant housing centers, and farmworker advocacy groups, such as Líderes Campesinas.  Our goal is to investigate attitudes, perspectives, beliefs, and experiences related to sexual harassment in the agricultural workplace. Farmworker focus groups and farmworker surveys will be done with men and women farm workers on both sides of the border. We will also have employer interviews in California to explore the business administrative infrastructure for preventing and responding to sexual harassment.
Themes brought up in both male and female farmworker focus groups completed in June 2017 included: barriers to reporting for victims, an increased effort by employers to prevent sexual harassment in recent years, and the observation that both men and women may perpetrate and suffer sexual harassment.  Men and women also differed in their knowledge of sexual harassment incidents occurring at their worksite: 8/10 women knew about cases whereas none of the men did. However, this is preliminary work and further surveys and employer interviews are ongoing.
The information gained from this study will be used to help develop educational materials and recommendations for agricultural employers and farmworkers to reduce sexual harassment in the workplace. It will also be part of my dissertation work for my first year in the UC Davis Graduate Group in Epidemiology.
Without a doubt, the most challenging part of conducting research on sexual harassment is dealing with the associated sociocultural and political concerns. However, I enjoy serving this vulnerable population and using my Spanish-language and cultural skills. My parents, who emigrated from El Salvador in 1982 fleeing a civil war, taught me the value of education and working in the community to improve it. This research topic is very important to me because I am familiar with sexual harassment and how challenging it is to address in Latino populations. 
Tags