First-Ever Farmworker Conference: Conferencia Campesina de Salud y Bienestar
Agriculture is one of the most dangerous industries in the U.S. Farmworkers are an essential part of California's agriculture, yet farmworkers are vulnerable due to language barriers, health and safety issues from the labor intensive work, immigration status, and economic obstacles. To positively impact the lives of farmworkers, Comite Civico del Valle (CCV), in partnership with the UC Davis Western Center for Agricultural Health and Safety (WCAHS), held the first-ever conference in the Imperial Valley specifically designed for farmworkers on March 24, 2023 in Calexico, CA.
I want to thank all of you for being here, for taking your time... This is a historic day... I am very happy, I am speechless. This is a dream for me that came true thanks to the SAFE Program."—Esther Bejarano, CCV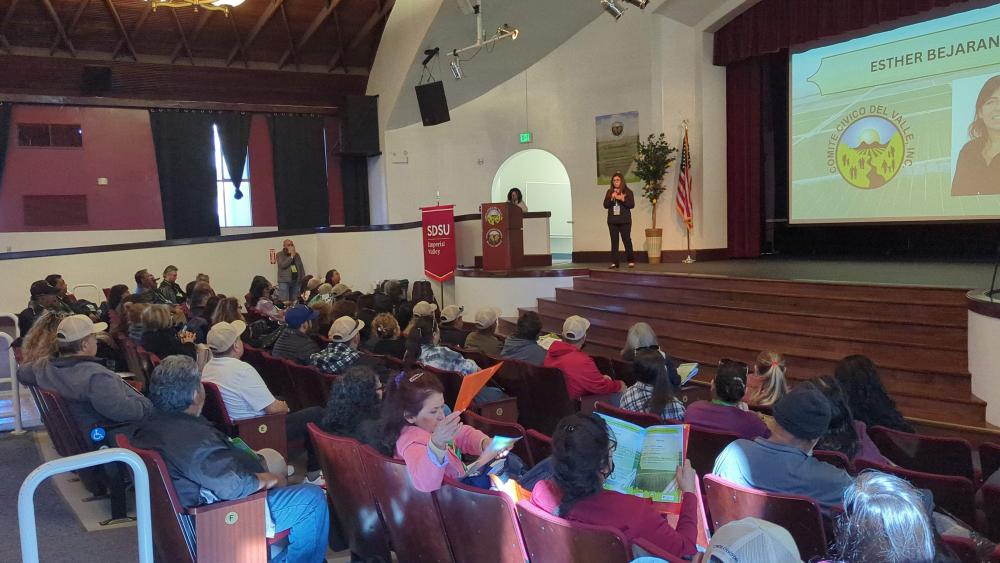 I am a lettuce worker at heart. These talks enrich us all. More than anything for our rights, for knowing how to defend ourselves. Knowledge is power and so you have to practice it, you have to follow, and you have to be constant. You have to really want it because if we don't take care of ourselves, nobody is going to take care of us, so don't take this just like that—lightly. Keep this in mind because it will serve us now and it will serve us forever"—Farmworker participant
All presentations at the conference focused on farmworker health, safety, and rights. The topics were chosen by CCV based on recent conversations with farmworkers. For example, the keynote speaker, Dr. Sergio Aguilar-Gaxiola from UC Davis Health, gave a talk titled "Farmworker Health and Wellness." WCAHS' Teresa Andrews gave a presentation titled "The Change Starts With You." Afternoon activities included a Pláticas en Confianza session as well as presentations on pesticide safety, labor laws and compensation, immigration rights, and more.
In addition to the presentations, WCAHS and other organizations had tables with free resources for farmworkers. Approximately 200 farmworkers attended.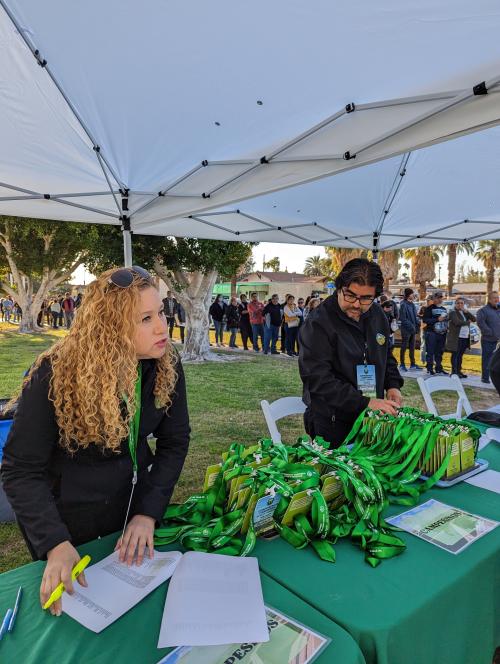 Our goal for this event was to center farmworkers and their priorities. It was an inspiring day that highlighted the resiliency of workers and the commitment of local organizations like CCV that serve them."—Heather Riden, WCAHS
Lessons Learned
Farmworkers developed a deeper sense of community and felt enriched by the topics and conversations.

Holding a conference for farmworkers is a new, exciting way to reach farmworkers that compliments other outreach events.

There is value in holding conversations and offering spaces where farmworkers feel comfortable voicing their ideas and questions.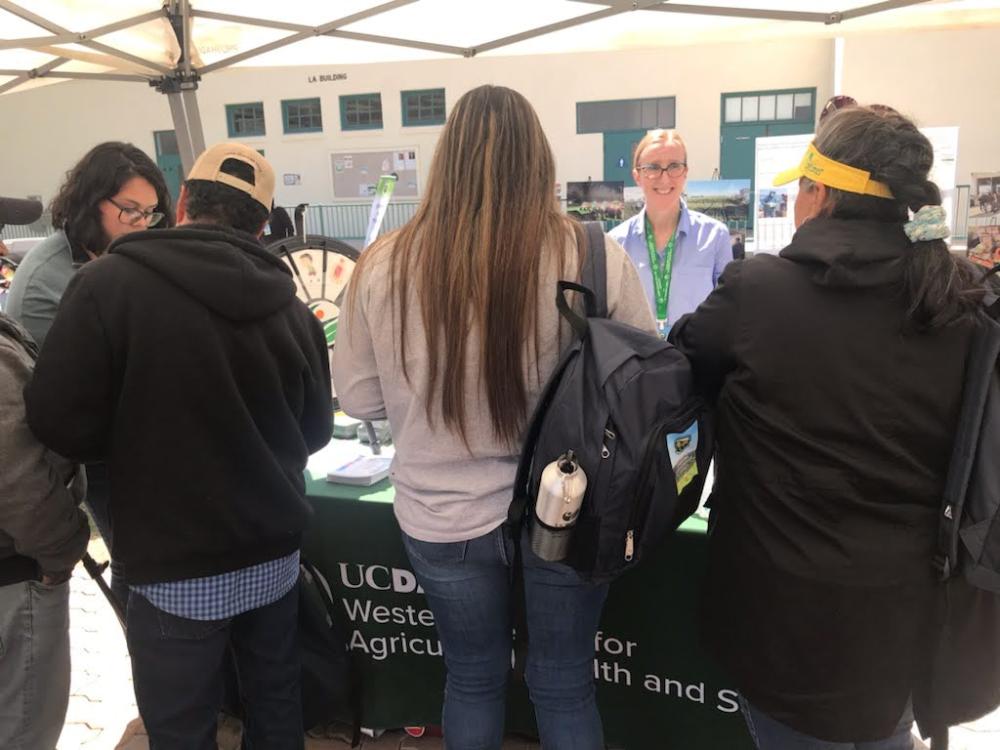 I want to thank the entire Comite [Civico del Valle] for the effort you make to bring all farmworkers together and give us information about our rights. I think that the other colleagues who are working, who went to work, we are going to inform them that hopefully we will have them here with us in the future. I know that unity is strength."—Farmworker participant
Organizations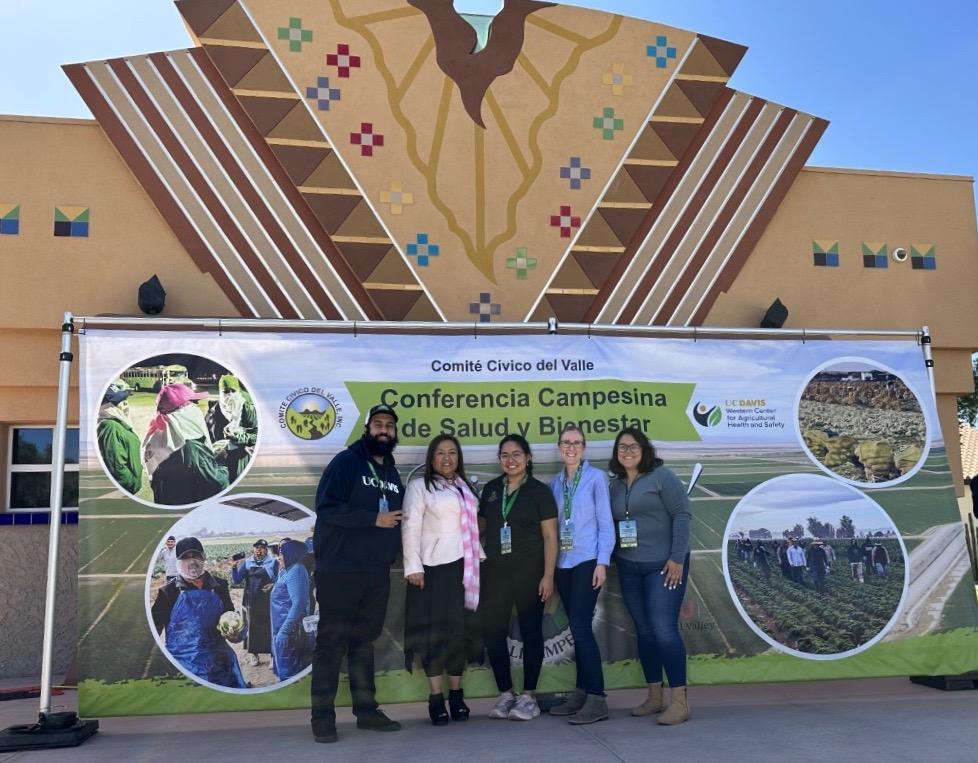 CCV was founded on the principal of "informed people build healthy communities" and strives to incorporate this mission into all partnerships, events, and studies. CCV engaged farmworkers in planning the event to ensure presentation topics focused on their priorities. WCAHS mission is to improve the health and safety of agricultural workers in the west through innovative research, interactive trainings, and tailored outreach. The center has been funded since October 2020 by the State of California to conduct outreach and education for farmworkers and the agricultural industry on COVID-19 and associated workplace safety protections and benefits. This conference was funded by the Statewide Agriculture and Farmworker Education (SAFE) Program.
Media Resources
Click here to view conference coverage by Univision.